Isola Rossa
Isola Rossa on the north coast of Sardinia is a holiday village with a nice marina and beautiful surroundings – located directly on the sea. The name "red island" comes from a tiny island near the village Isola Rossa. The small viallge overlooks the Gulf of Asinara in northwestern Sardinia. The Costa Smeralda, Santa Teresa Gallura, Stintino and Alghero are not far from here. The former fishing village can easily reached via well maintained roads, the picturesque seaside location and the bizarre rock formations of the northern coast of Sardinia feature a a lot of holiday experiences. Even under water you'll find beautiful landscapes with corals and caves as well as an impressive variety of fish. Off the peak season there is not really much going on in Isola Rossa, but during the season the place is busy. All kinds of activities are possible here - from water sports to beaches to excursions in the mountains. Many interesting day trips present lots of opportunities for a wonderfult time in and around Isola Rossa.
Holiday in Isola Rossa / Sardinia
Activities in Isola Rossa
Isola Rossa is well prepared for tourism: Restaurants, pizzerias, bars, discos with live music, supermarkets, ice cream parlor (s), small shops, diving or fishing equipment, local arts and crafts, boat rentals, canoe rental, surfing school, tennis, fitness studios, massages and physiotherapy as well as other infrastructure can be found here - especially around the marina of Isola Rossa. Even if that seems as if Isola Rossa was some party place: It is not. Only a few minutes from around the port or marina you'll find Sardinias fantastic nature and quiet places.
All around Isola Rossa the landscape is dominated by the granite rocks of the region Gallura. Here you can go hiking or take a walk and of course enjoy the beautiful beaches of the region. The water park Aquafantasy is located near Isola Rossa (overlooking the town and the coast) and is well suited for families with children - the waterslides are fun for both, adults and children (Loc. Paduledda in Trinita d'Agultu e Vignola).
Beaches in and around Isola Rossa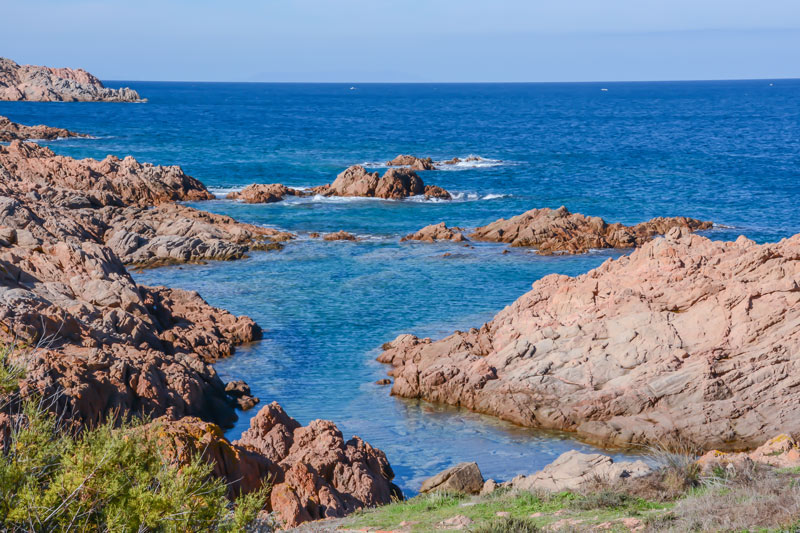 Spiaggia di Li Cossi, Spiaggia La Marinedda, Spiaggia di Tinnari or Spiaggia del Porto La Cruzitta, Li Feruli Beach / Li Mindi - these are the names of the beaches nearby. Isola Rossa itself provides two beaches: Li Femini (the access to the very shallow water was previously only allowed for women, hence the name) and Lunga beach (Spiaggia Lunga Isola Rossa) with fine white sand and shallow water. Here you can also rent sun loungers and parasols and there is a boat rental as well as a diving center. The clear water is not only good for diving, snorkelling is also an excellent alternative.
The marina in Isola Rossa
The port or marina of Isola Rossa is well protected from the wind - between Santa Teresa Gallura and Castelsardo. About 400 ships or boats are to be found here. It also offers various services: Drinking water and electricity, toilet and showers, weather forecast, gas station, assistance 24 hours a day, waste disposal, assistance with anchoring, a parking space and a crane. If you like to rent a boat, this is the place for you - with or without skipper. The port is the most central spot of the village of Isola Rossa, where, by the way, there is not much going on outside of the season.
Around Isola Rossa: Excursions
The surrounds of Isola Rossa are as exciting as Isola Rossa itself. They offer themselves with numerous excursions and tours. The archipelago of La Maddalena is spectacularly beautiful, as is the island of Asinara. Castelsardo is also close by. Porto Cervo, Palau and Santa Teresa are also within easy reach of Isola Rossa. Supermarkets and alike are to be found in Badesi.
Around Tempio Pausiana you will find the heights of Monti Limbara with great hiking trails and mountain bike trails. From top of the mountains you'll enjoy a fantastic view over the coast and the ocean to Corsica. Here are also numerous excavation sites being found around Monti Limbara.
The small village Costa Paradiso is also nearby and can be found in a magical location. Valledoria is also quite close and it is a very touristy place. Off the peak season you may very well find a calm sport even in Valledoria and the weekly market is worth going. Anyone looking for a bit more excitement is in good hands in Valledoria. Worth a visit ithe city of Alghero with the Capo Caccia. In Viddalba - about 10 kilometers from Isola Rossa there is also an archaeological museum. Along the coast, there are beautiful hiking trails, which are also well suited for not too firm hikers.
Historical Sites, Wine and Food
The Cantina Li Duni in Li Junchi is a small winery, where you can also buy your wine directly from the producer. The purchase is worthwhile. The winery Cantina Ligios in Via Mazzini 68 in La Mudizza is also worth a visit for wine lovers, as well as the Cantina Li Seddi on Via Mare 29 in Badesi. At Agriturismo Campesi or Agriturismo Santu Petru Di Giuseppe Depratisin in Trinita d'Agultu e Vignola, just before Isola Rossa, you will discover the local cuisine (terra, no fish and seafood). This also applies to the Agriturismo Nuraghe Tuttusoni in Aglientu. If you are interested in history, Aglientu is a good place to be - the finds from around Aglientu are dating back to the neolithic age. The nuraghi Tuttusoni and Finucchjiaglia and the remains of the Palazzo Baldu from 1238 are just only a few of the historical places in Aglientu.
Places nearby
Not far from Isola Rossa you will find a lot of opportunities for excursions: Alghero with its steep cliffs and the Capo Cacchia is very worthwhile. The lovely town of Castelsardo is also something you should add to your bucket list. The city of Palau and the Archipelago La Maddalena are made of outstanding beauty.